AT HOME WITH JAOVEN
Welcome to Jaoven's Parisian studio: an atypical apartment totally open without any partition. A large room where living room, kitchen and bedroom share the space with an impressive ceiling height. Today Jaoven reveals his relationship with decoration, his inspirations and his taste for pretty things.

- How do you define your interior style?

My interior is quite eclectic, a mix of vintage furniture from the 30s to the 60s, Mediterranean inspirations, warm colors and vacation memories. There are also pieces that I made myself, and many sculptures, ceramics or paintings that I created in the last years.
- What inspires you?

Nowadays we are flooded with images and suggestions, especially on social media and the internet. Unconsciously, some of my inspiration comes from the design/deco Instagram accounts I follow. I like to balance these inspirations with ideas I find on my travels, at the Saint-Ouen flea market or on auction sites.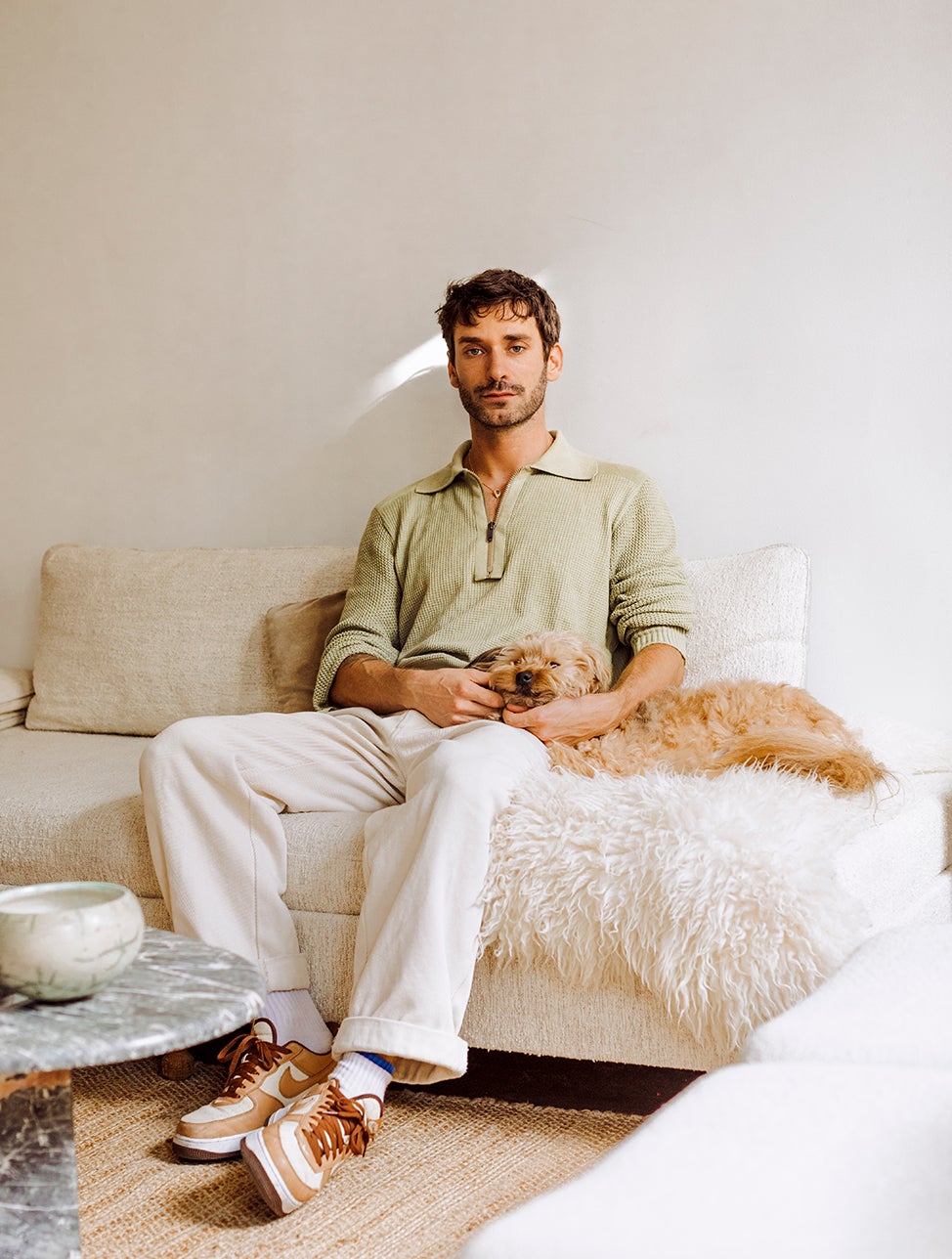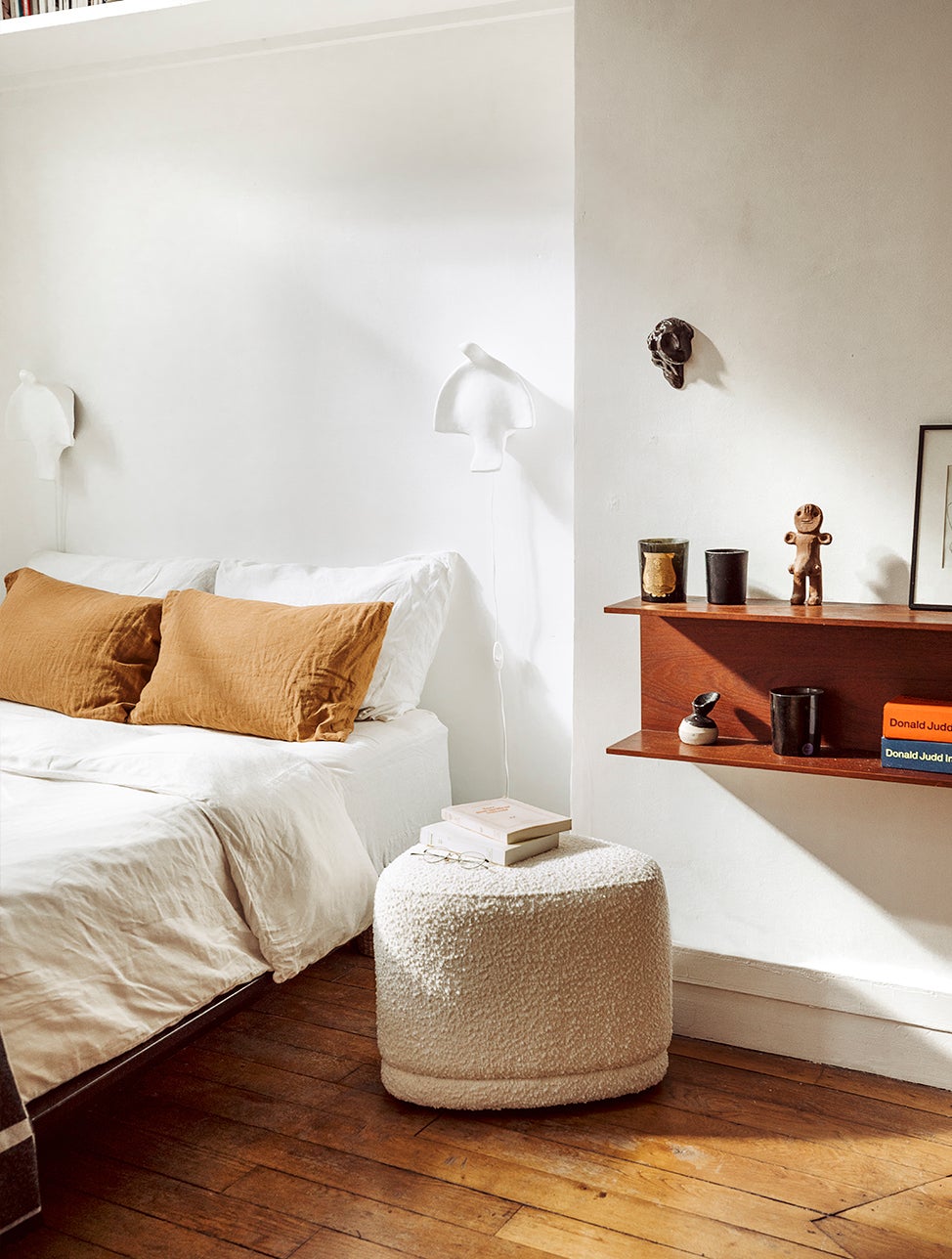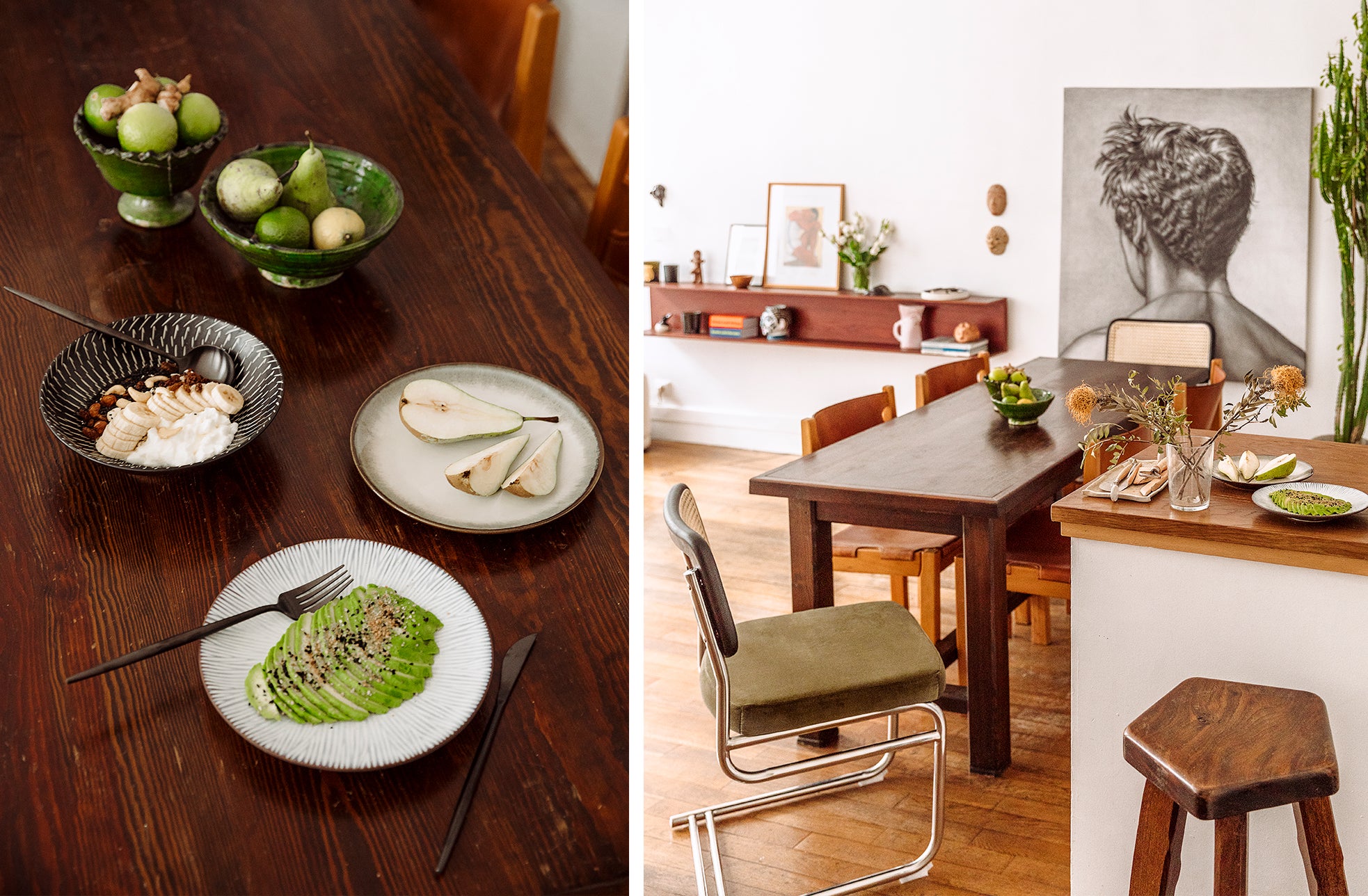 Instead of buying a Pierre Paulin chair, I look for Arfa chairs and have them reupholstered. I would rather find an old Moroccan living room bench and have it reupholstered with Pierre Frey fabric and XL cushions than to buy a Togo sofa. It takes time and a lot of handwork, but it adds a bit more character to the room.

- What does furniture mean to you?

For me it is important to feel comfortable in my home and create an interior that reflects me. During the lockdown I spent a lot of time at home, and it is very important to me to be surrounded by beautiful furniture made of fine materials that are well thought out. It is less difficult for me to put money into a beautiful designer piece than into a luxury coat, for example.
- Can you review the history of this apartment and the steps that led to this result?
When I started looking for an apartment, it took me more than 6 months to find one that suited me. It is rather an unusual apartment because there are no partitions except for the entrance and the bathroom. So it is a large open space with very high ceilings in a building listed for preservation.

It's a bit intimidating at first to find yourself in a large empty cube, hence I proceeded in stages. I chose not to keep any of my old furniture and to furnish this apartment thoughtfully. So for a few months I lived in this empty space with a mattress on the floor and two chairs. Gradually, the dining table, a bed frame, a bookcase, chairs, a coffee table, etc. were added. Today I am still missing elements like lamps and a work desk. For my birthday, I just got some beautiful vintage bar stools from Olavi Hanninen and a ceiling light from George Nelson. I like the idea of slow transformation. It's a journey.
- Where do you like to shop?
I buy a lot on Leboncoin. With the right keywords and some tips, you can find real dream pieces that would cost three times as much in classic antique stores. I go to sites like Pamono or Selency several times a week. However, I avoid buying too much on these sites because the commissions they charge are enormous and force antique dealers to sell at ridiculous prices. I often go to the Saint-Ouen flea market, but more for inspiration and ideas that I then search for online.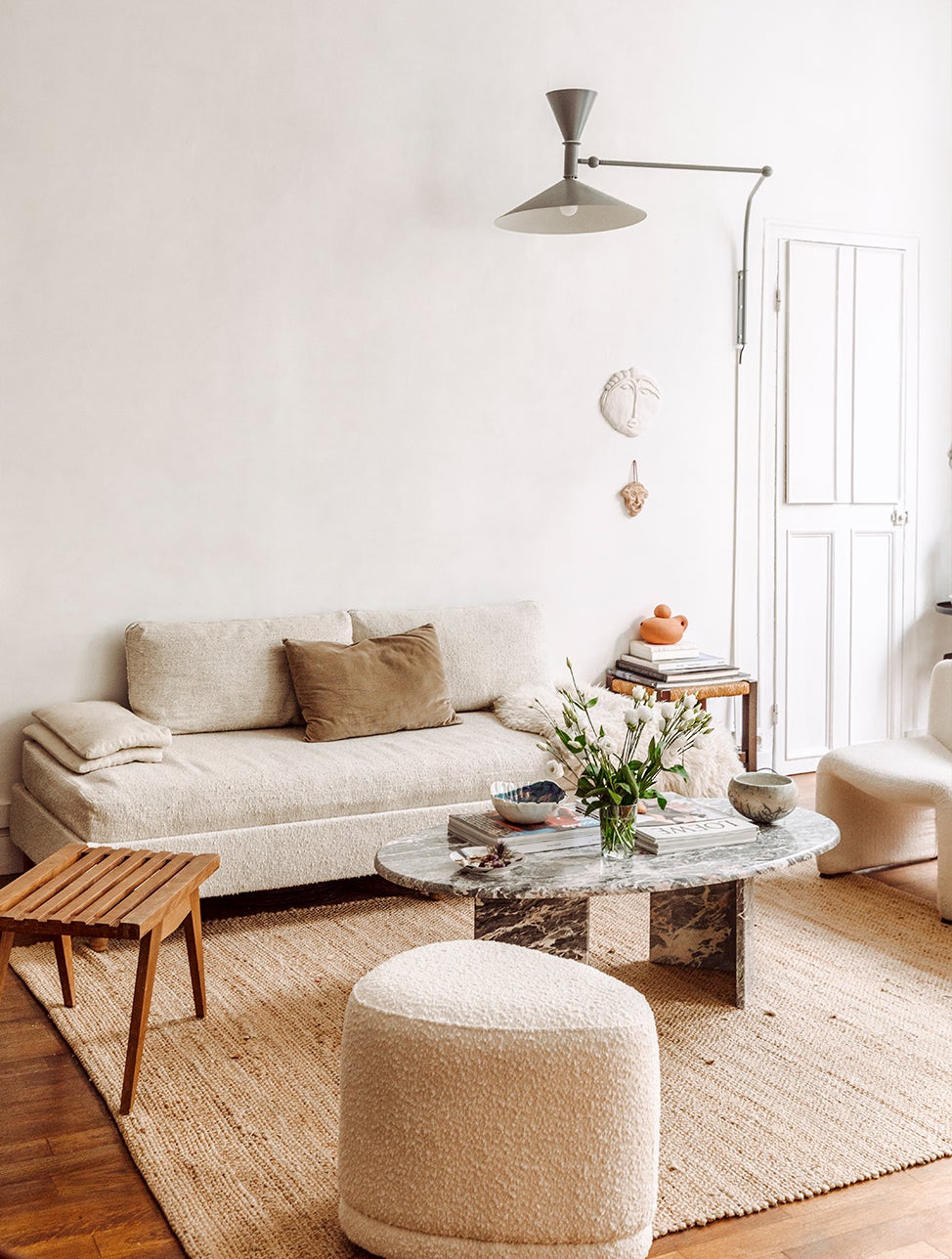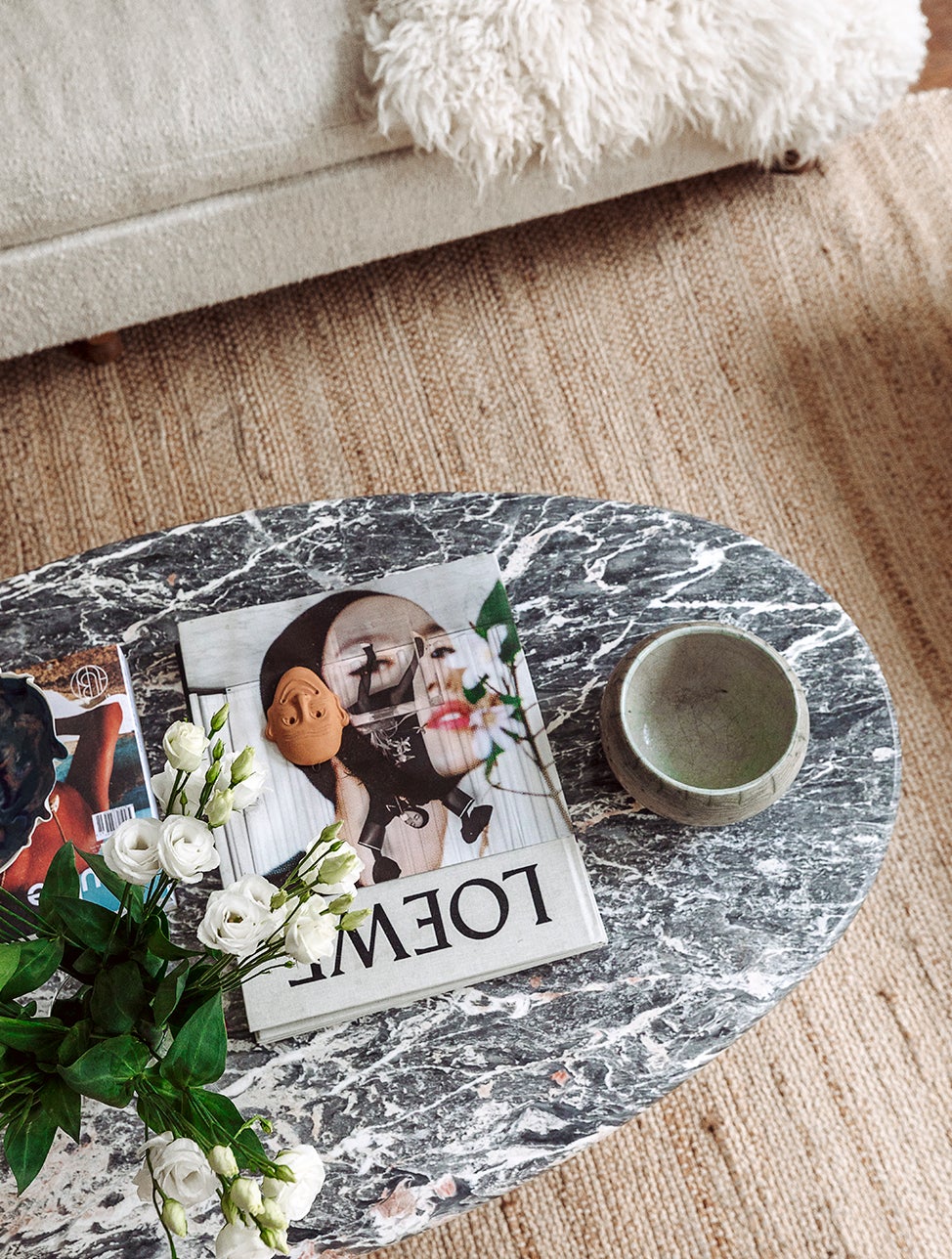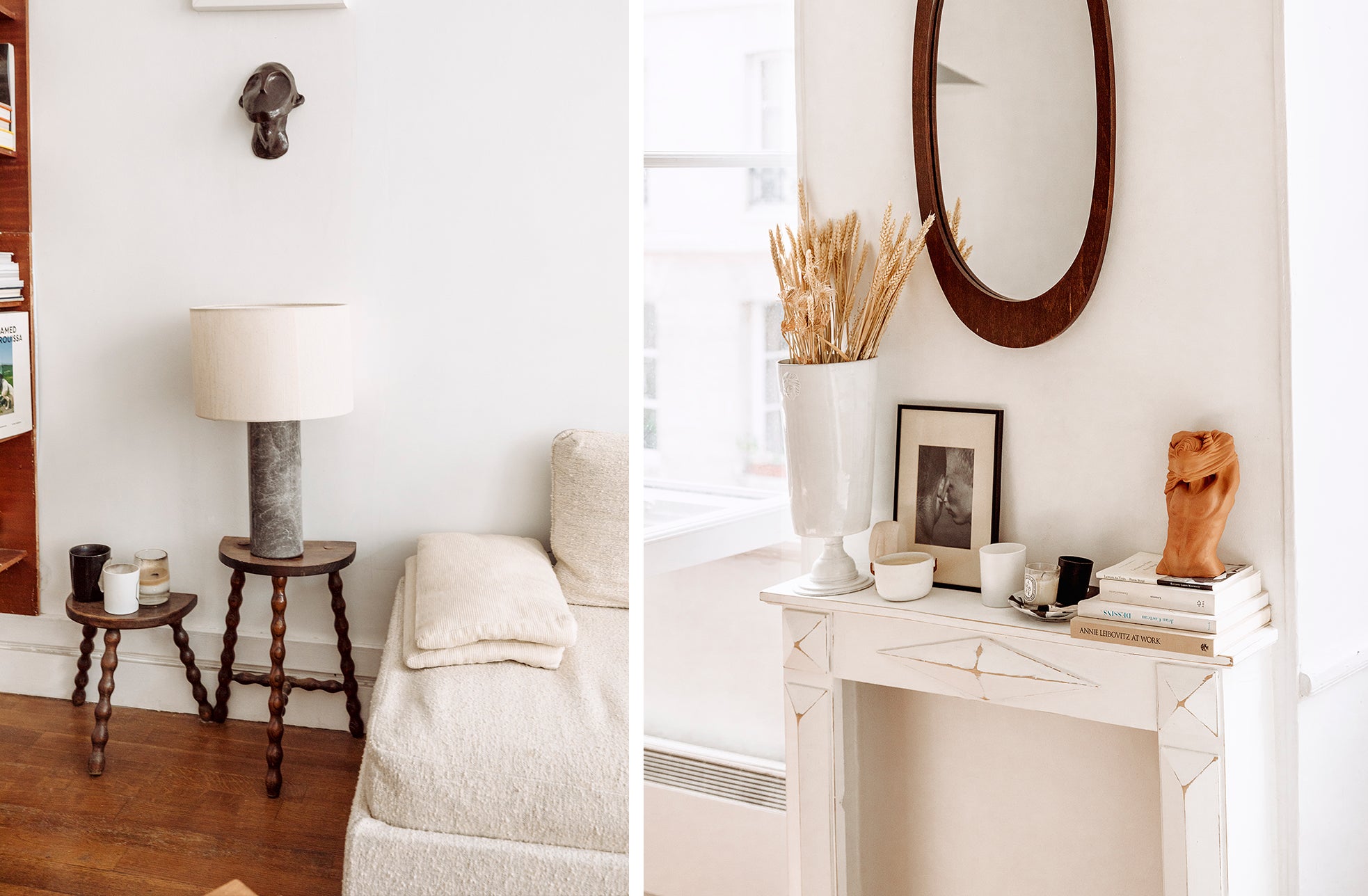 - You recently designed a ceramic series yourself. What do you think about art objects in interiors?

I believe that art objects (with or without value) add character to an interior. Nowadays we all tend to have the same kind of furniture, and objects and artwork help to enhance the place and make a room seem less ordinary.
- Is there a book, website, movie, or new discovery that you would like to share with us?
I love the imagery and fantasy surrounding the cowboy myth. A friend offered me the book "Richard Prince: Cowboy" for my birthday, which traces the cowboy in media, advertising, etc. On the same topic but in a completely different direction is Luke Gilfords book "National Anthem" about the subculture of gay rodeo in the US. And lastly, a film, "The Rider" by Chloe Zhao, an incredible feature film about the search for identity and the fragile notion of masculinity, shot on the prairies of North Dakota in the USA.
---------------

Instagram: @jaoven