AN ODE TO SUSTAINABILITY


-Hello girls, tell us about yourself, who are you ?
Clara : Hello me it's Clara Victorya, so i began on Youtube mostly with sewing, I also was talking a lot about second hand sewing and then I started on Instagram to talk about fashion and still on vintage. I created my thrift store named Relique, two years ago now. It's a shop in Paris where you can buy second hand clothes.
Maoui : Hello NV, I am Manon aka maoui2saintdenis on social media. I'm 29 years old. Just not long ago I was a social media manager and now I am doing it for myself. Which means I am an influencer/ content creator.
Rubi : Hello, my name is Rubi Pigeon, I'm 24 and I am a consultant in marketing and I also am an upcycling designer. I have my own brand called Rusmin and its upcycled clothes that are released every month.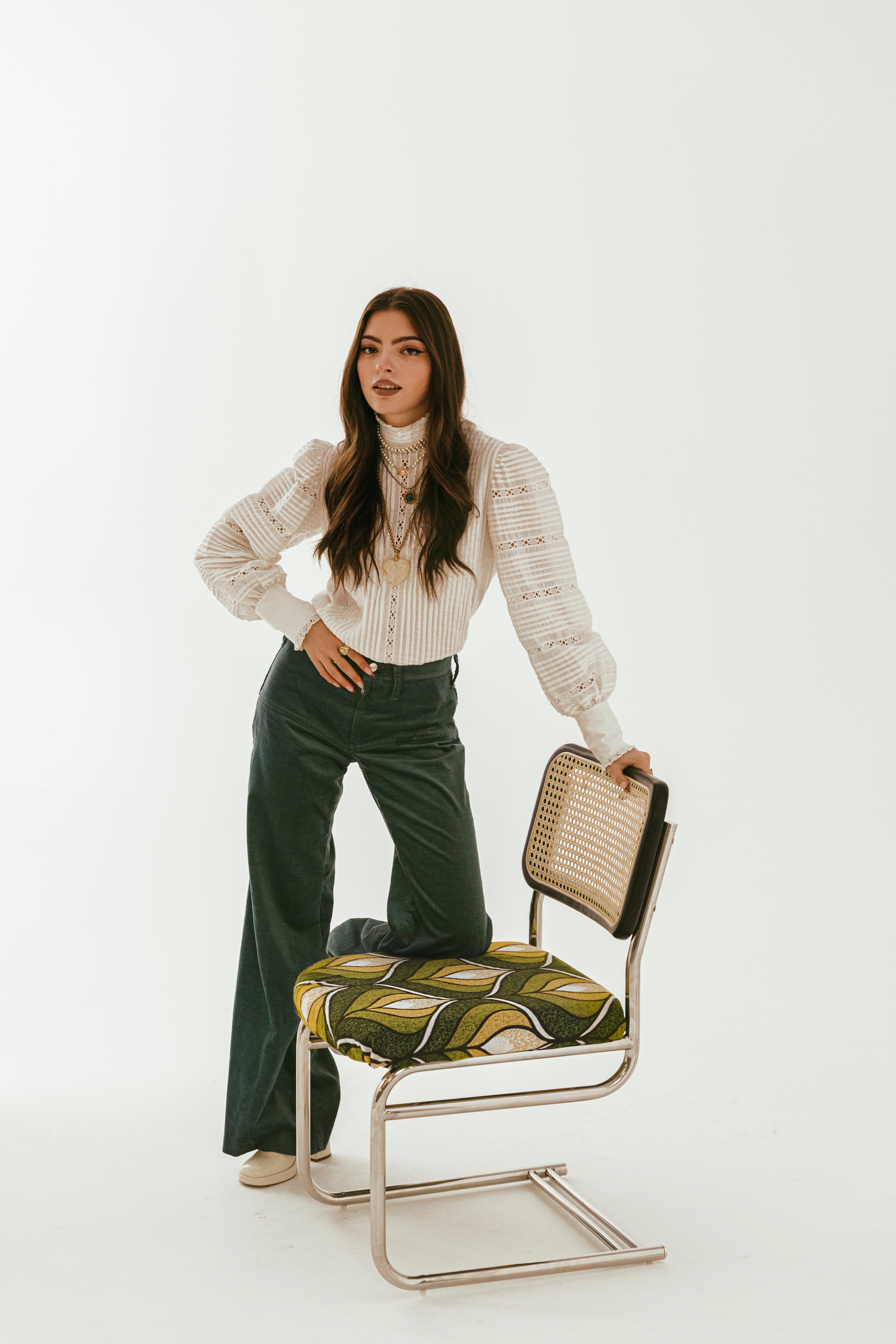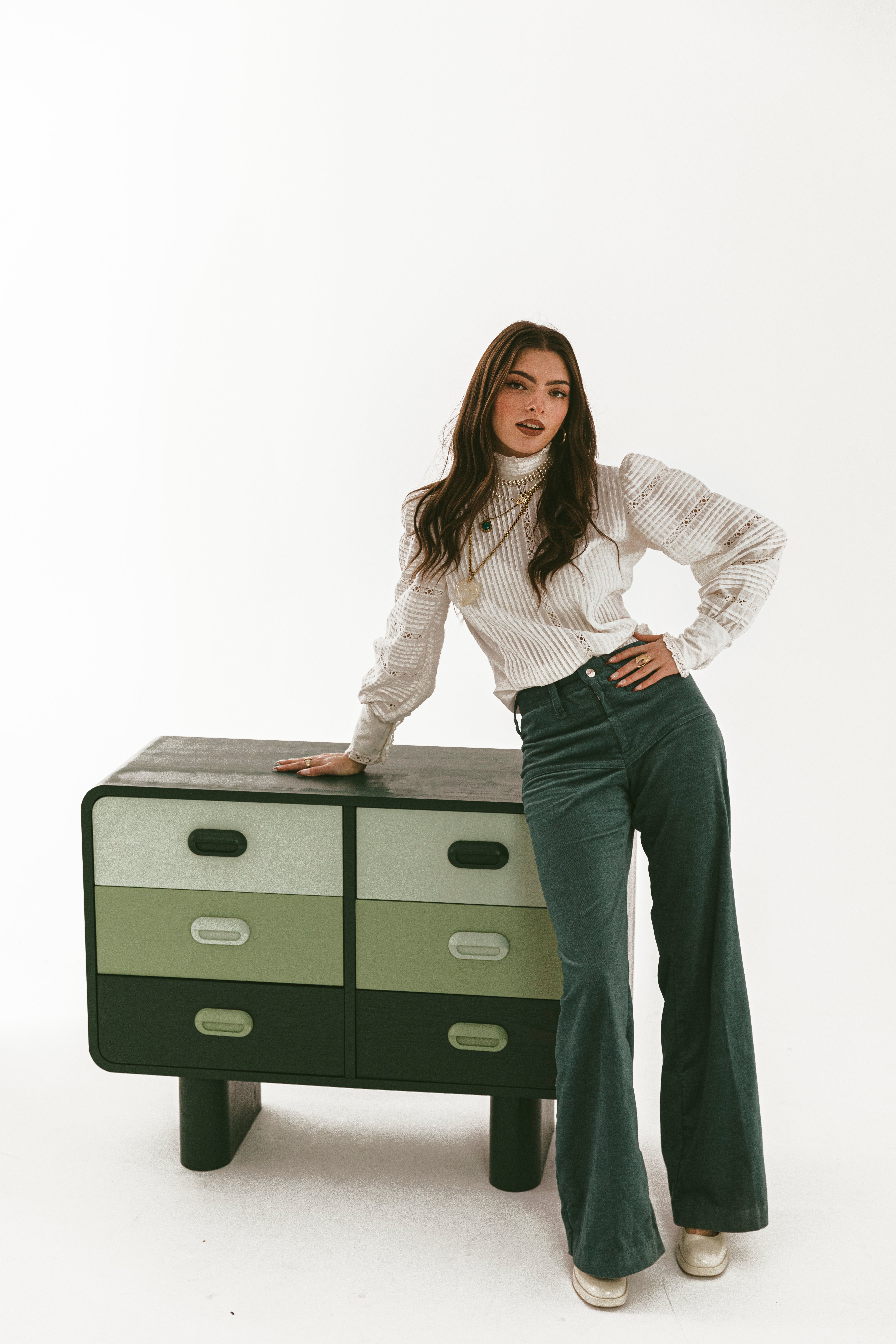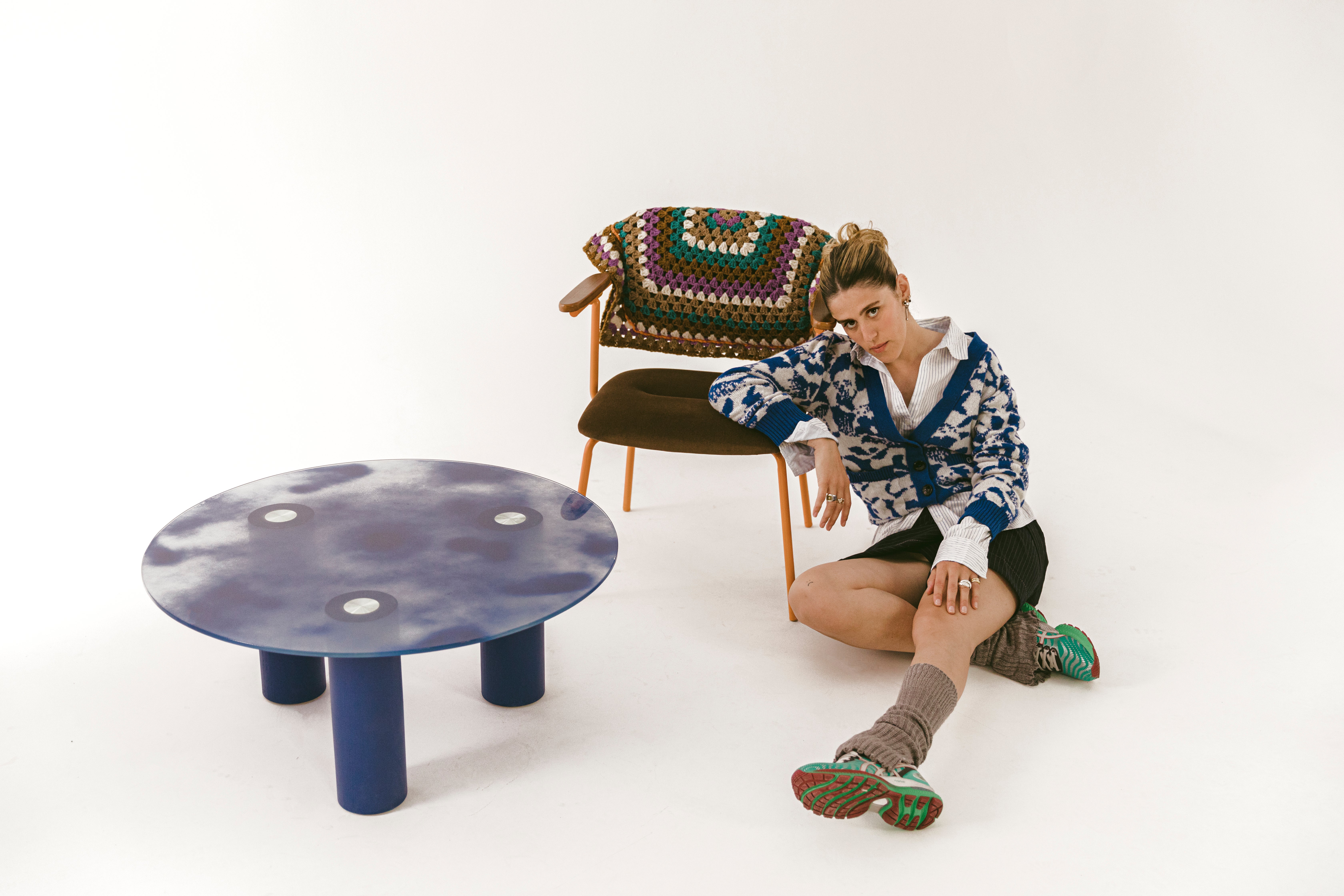 -How would you define upcycling? In your opinion, what is the importance of this new way of living? a word on this evolvement?
Clara : Upcycling is truly the art of transforming things, of giving them a new purpose. It's taking things that have a life of their own or that have small flaws and transforming them to reuse them and extend their life. I think it's very important to talk about this subject, to explain how to do it and to give people the desire to do it.
Maoui : For me, I define upcycling as a loop, because everything is renewed in fact and as fashion is the same, it is in cycles and it comes back. For my part, upcycling is really about that, and that's why I think that fashion corresponds well to upcycling because nothing is created and everything is transformed, and that's the essence of what we do.
Rubi : In my opinion, upcycling is to crack your head a little to re-use what was bound for the trash to restore it to life. Upcycling exists in many different ways, I usually do it on clothes and here we do it on furniture.
-How important is upcycling in your life ? Did you ever feel the need to do this ? If so, how did it come about ?
Clara : So upcycling has always been a part of my life, but before that we didn't really put a label or a word on it. In fact, I've always watched my parents take things and transform them. My father in particular, who is very hands-on, has always taken old furniture and transformed them, repainted them, changed the handles etc... It inspired me a lot to create my work at NV Gallery and it always had a big place in my life. I love anything that involves art, to touch, to make things with my hands, I love that.
Maoui : Compared to the girls, I don't do upcycling as such, i.e. I do not create things but I consume upcycling in the sense that I will wear second hand clothes or even buy products made from upcycling such as Rubi's brand.
Rubi : Upcycling is at the heart of how I was raised. My mother has always educated me to be aware of what we already had instead of buying new things. And therefore to do, I really grew up with that mindset of recovering and remaking with what we had. After my childhood, after how my mother raised me, I continued to use upcycling now in the heart of my brand.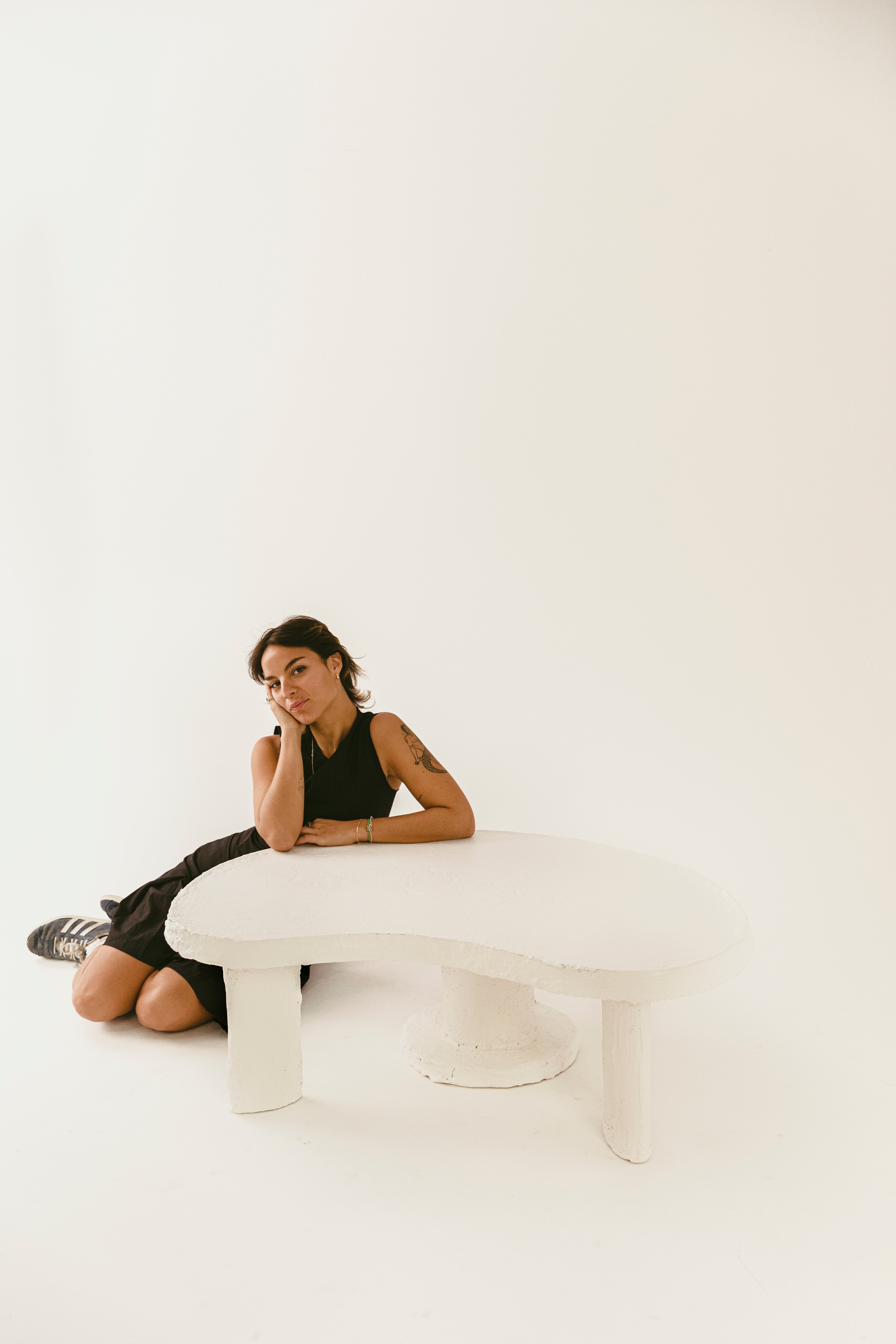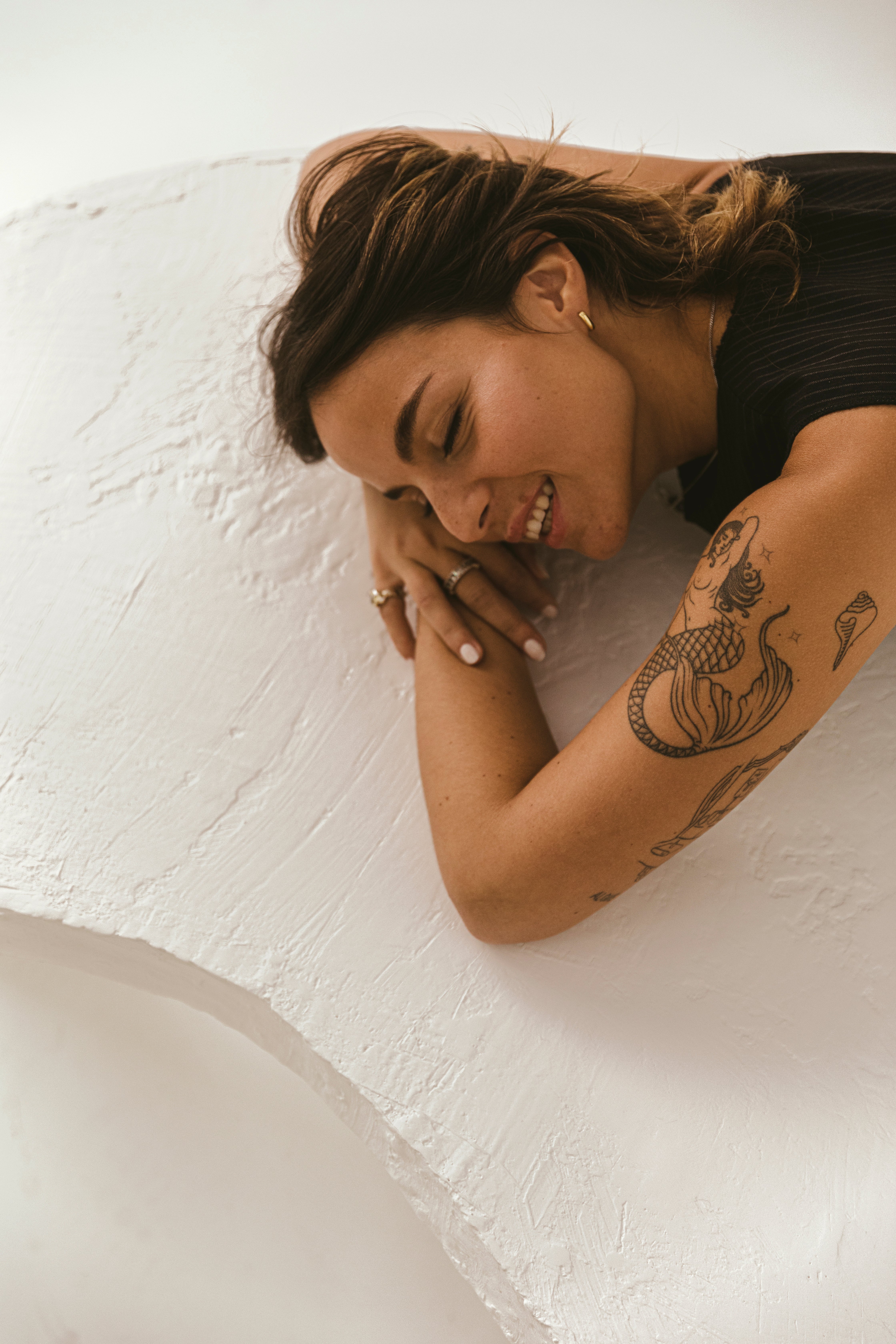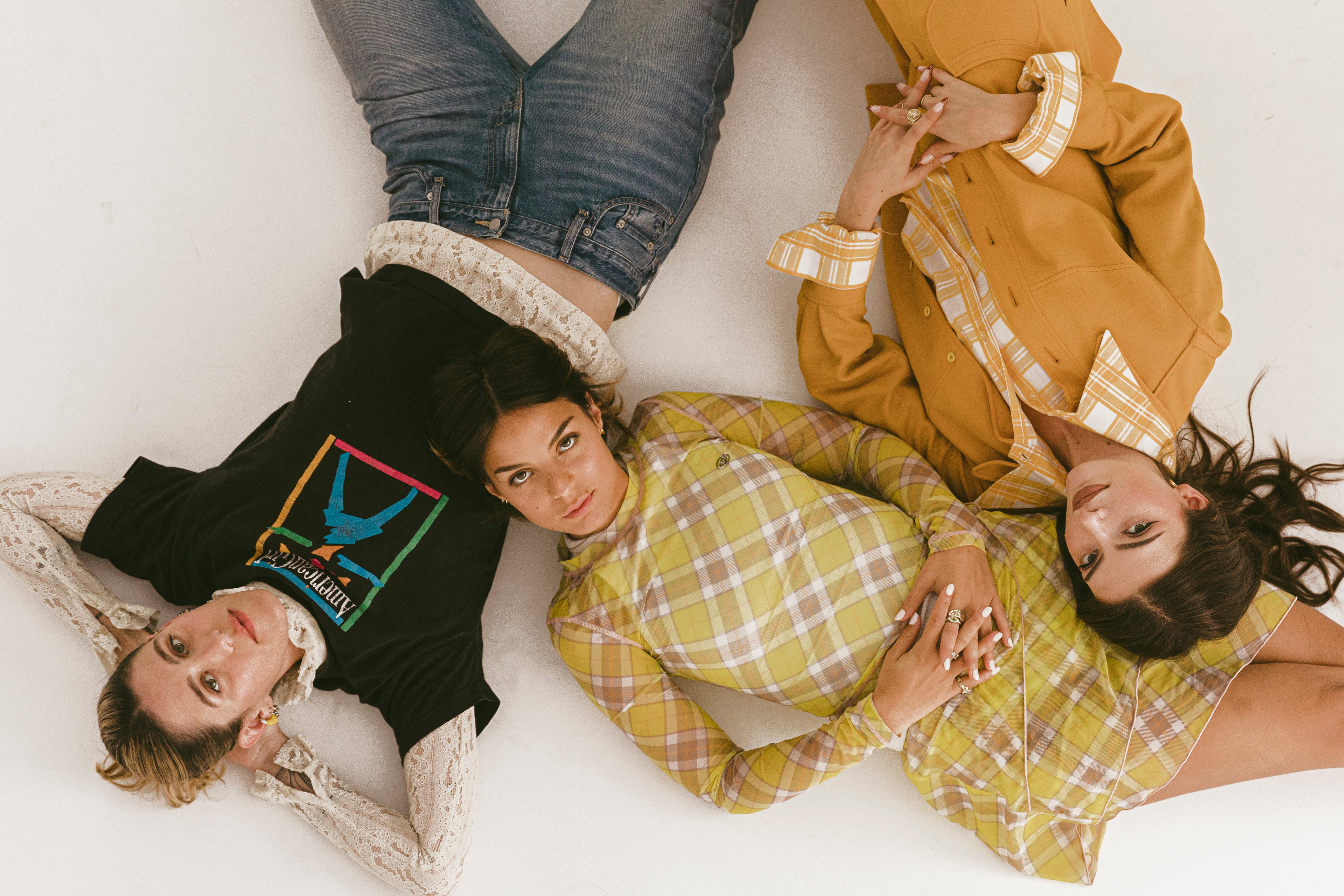 -And now, what place does interior design holds in your daily life ?
Clara : Design really took a place in my life I would say about four years. When I moved to Paris because I visited a lot of museums, I started to get interested in furniture designers and I love the designers of the 70' and I think they did some incredible things that inspired me for my store. There are little design touches that I love, I can mention Marcel Breuer and Verner Panton, who is a crazy architect designer. I have tried to get a little inspiration from them for my creations.
Maoui : So interior design came quite late, I had a hard time living alone at the beginning and as a result I had a hard time making a home of my own. So this desire to decorate my home well, and this interest in design came to me I think this year, because my boyfriend works in design and he introduced me to this world which was new to me. Now I like to invest money in beautiful design pieces and it becomes a pleasure.
Rubi : Interior design is just as important as clothing, especially since I now live alone. It's very important for me to be in a cocoon when I am home, where I feel inspired and calm everyday.
-What did you like the most when NV GALLERY approached you for this partnership ? Decor is a first for you, isn't it ?
Clara : I was immediately excited about the project as I love upcycling. I think it's also a challenge and it was a first to collaborate with a brand like that with a real message and also a little at stake. I said yes right away, and I was inspired right away, I immediately had a lot of ideas.
Maoui : What appealed to me when NV approached me about this project was to get out of what I knew how to do, especially because I love to DIY. My home is not really decorated, but on the other hand I used to patch up a lot of things and I've been DIYing for quite some time and this allowed me to get out of fashion, out of this sector where I'm seen all the time, and to use my skills in something else, and especially in this new field that interests me more and more, so it was all good.
Rubi : When NV GALLERY approached me about this project, I was a little intimidated by the size of the expectations, which was for furniture, and I'm more used to working on clothes or small pieces of furniture (mirrors, little knick-knacks), and we were really talking about armchairs and tables.I wasn't too afraid to be ambitious, I went for it and I'm delighted with the results.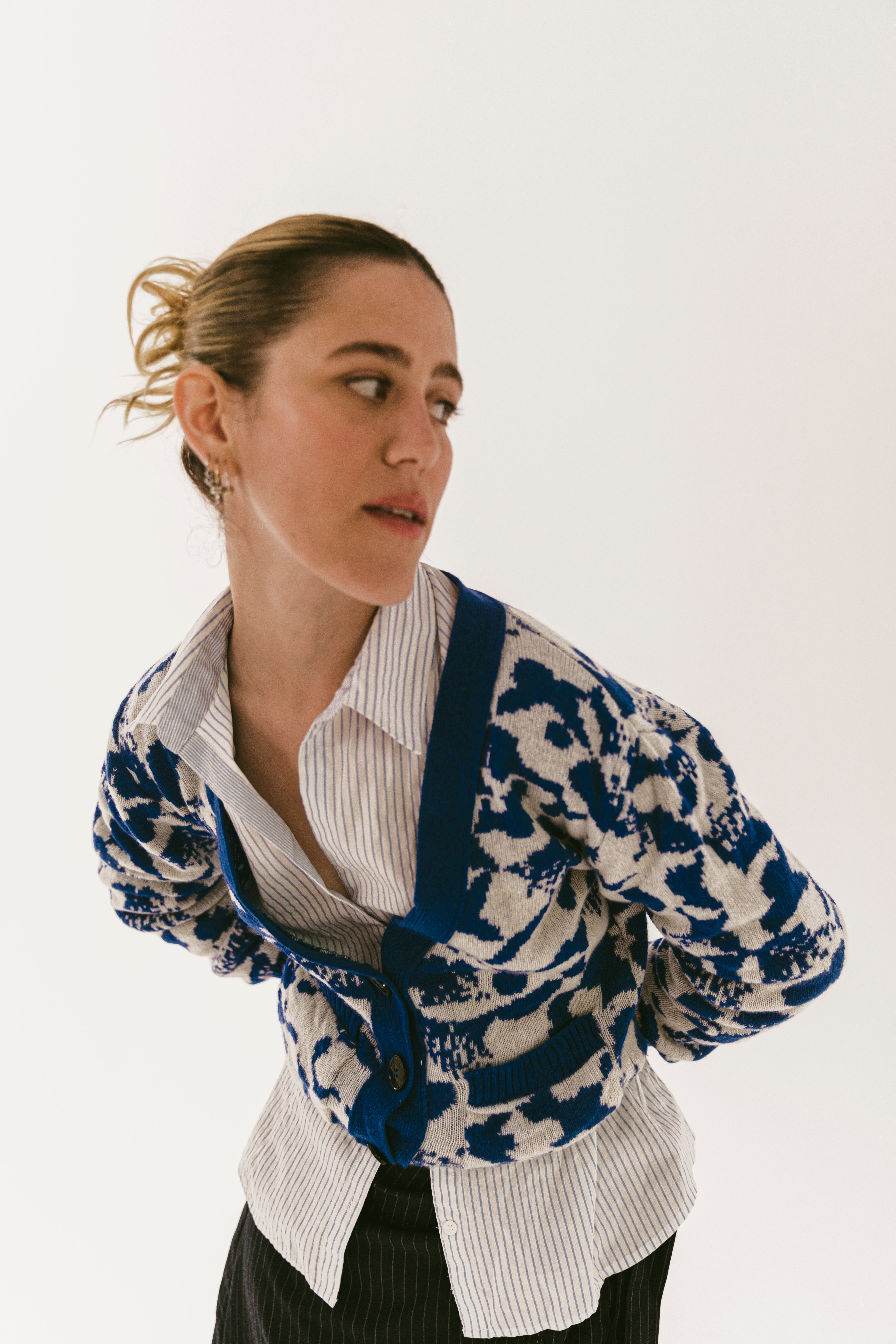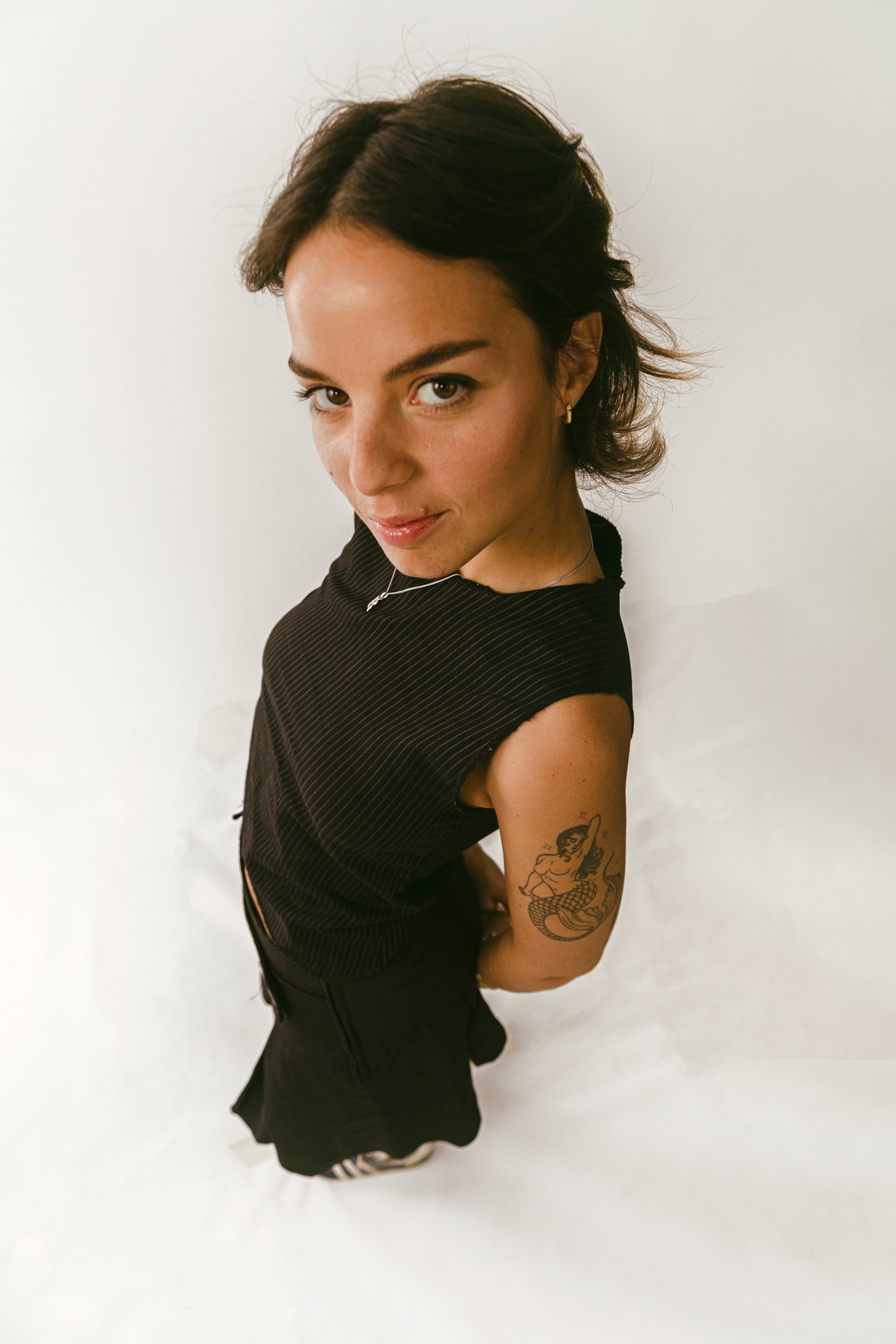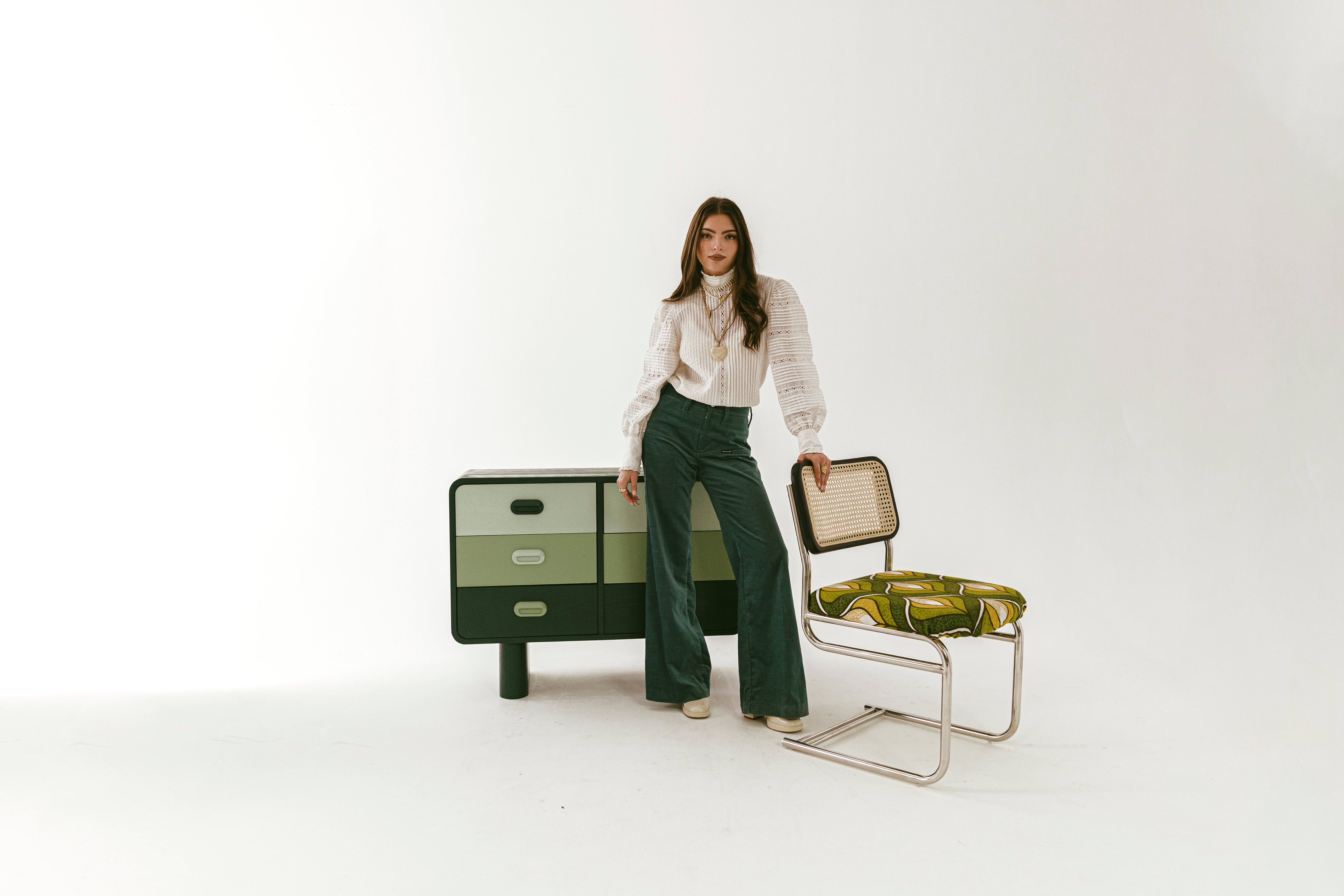 -What do you like the most from NV Gallery ? What are your favorite pieces ?
Clara : What I like a lot about NV Gallery is that there are pieces of furniture that I think are timeless, meaning that you can easily put them in your home and they will really last over time. It can be incorporated in a lot of different styles and ambiances and I think it's really important today to play on timelessness so that it lasts as long as possible. My star piece is the EGO wave mirror that I love and I put it in my boutique so that people can see themselves with the clothes on them. I ordered a second one to put in the store because I think it's just iconic.
Maoui : What I like about NV Gallery is that it's a bit of a capsule because on the site there's not a lot of stuff, it's things that are going to be sought after, quite sharp and I also like the fact that it's quite timeless but at the same time remaining design and in what is actually currently being done.
Rubi : What I like about NV Gallery is that the selection is quite sharp and trendy. My favorite piece from NV Gallery is the GIULIA, the little armchair because I think it would fit in my apartment and it has this cozy, selfish look to it like I'm reading my book alone or angry.
-What was your favorite piece to upcycle ? What was your favorite step? Do you have a fun story to tell ?
Clara : My favorite piece that I upcycled was the little dresser. Which already I found to have a sublime shape and it was a bit of a challenge to make something very smooth, very clean especially in the details because I took the time to paint several layers, I sanded and I think it's the first piece of furniture where I spent so much time and I was so involved to make sure that the finish was perfect. I'm just trying to evolve a little bit in that art of upcycling things. So I took the time to make this dresser from scratch, to paint it, to add little handles etc. It's very subtle but I think the before and after is quite crazy.
Maoui : So the piece that I preferred to upcycle I think was the blue table which was not supposed to look like this and I think that's a lot of what upcycling is about, you have an image of what you want and sometimes you take slightly different paths to get what you want. And it also leads us to other things and it's more creative I think and in fact I just wanted to make a kind of halo a little diffused with the spray can. In the end I made a lot of little halos and it was really nice, I made some more and that made a kind of little blue camo clain design and it looks really good.
Rubi : I love the concept of the table which I made with a table top, two legs of a table and a leg of another table. It's typically what I like to do, especially in upcycling clothes, it's kinda like a patchwork, a condensation of things I liked. For example, with a top I would have a sleeve from another top, the collar from another and the body from another and I feel like I reused that mindset for this table. The concern was that after it was more about the paint. So we ended up plastering it up and I think the result is iconic.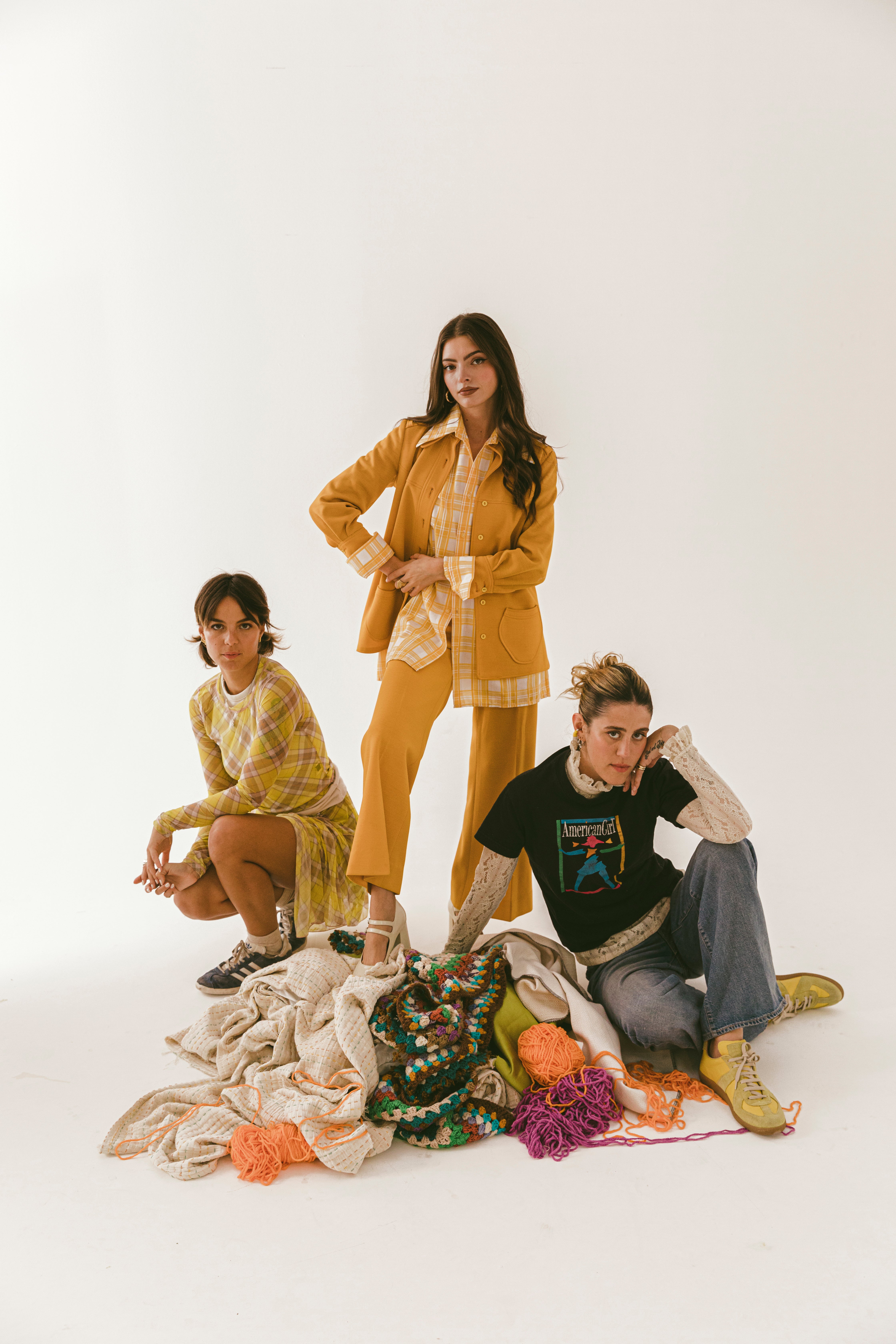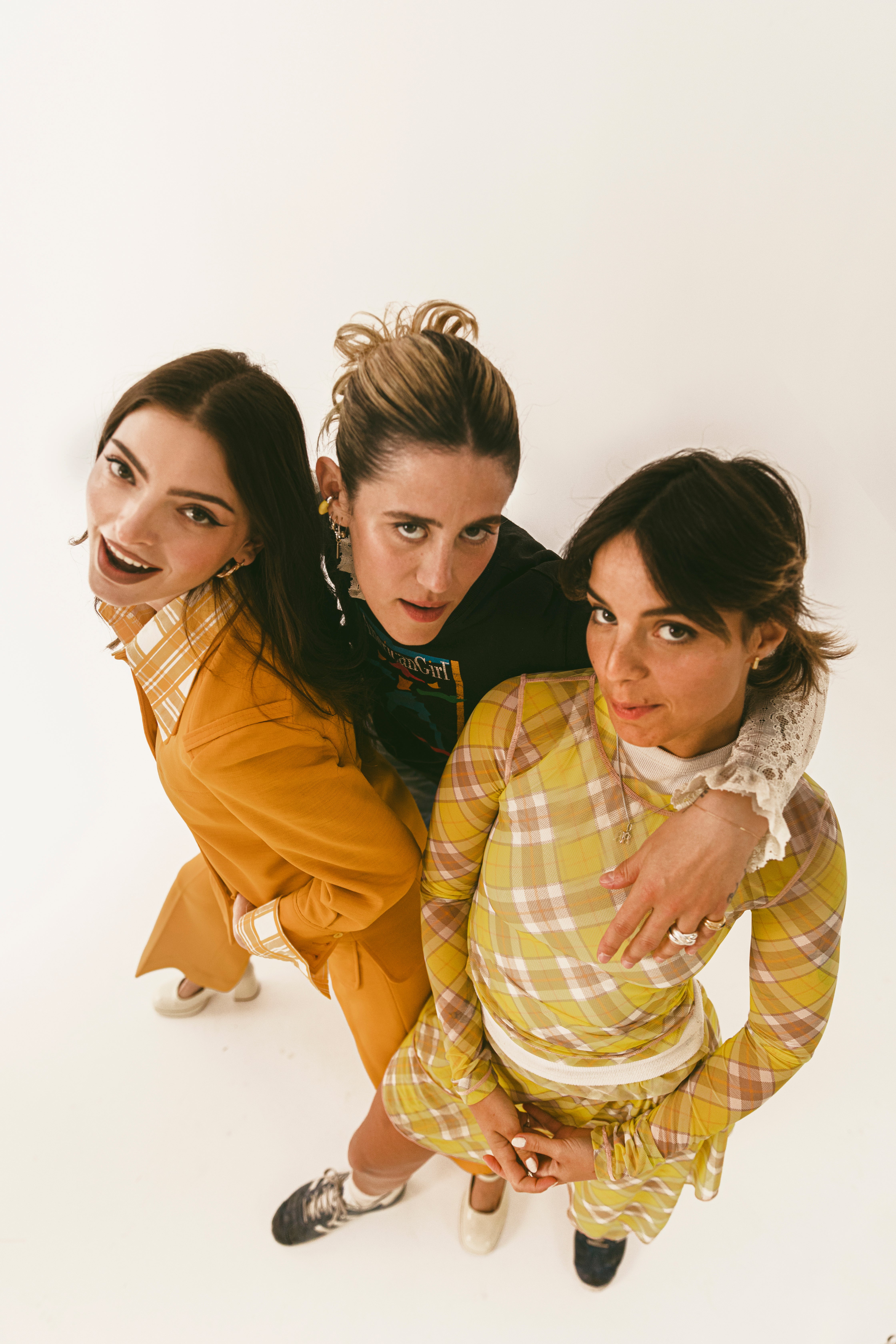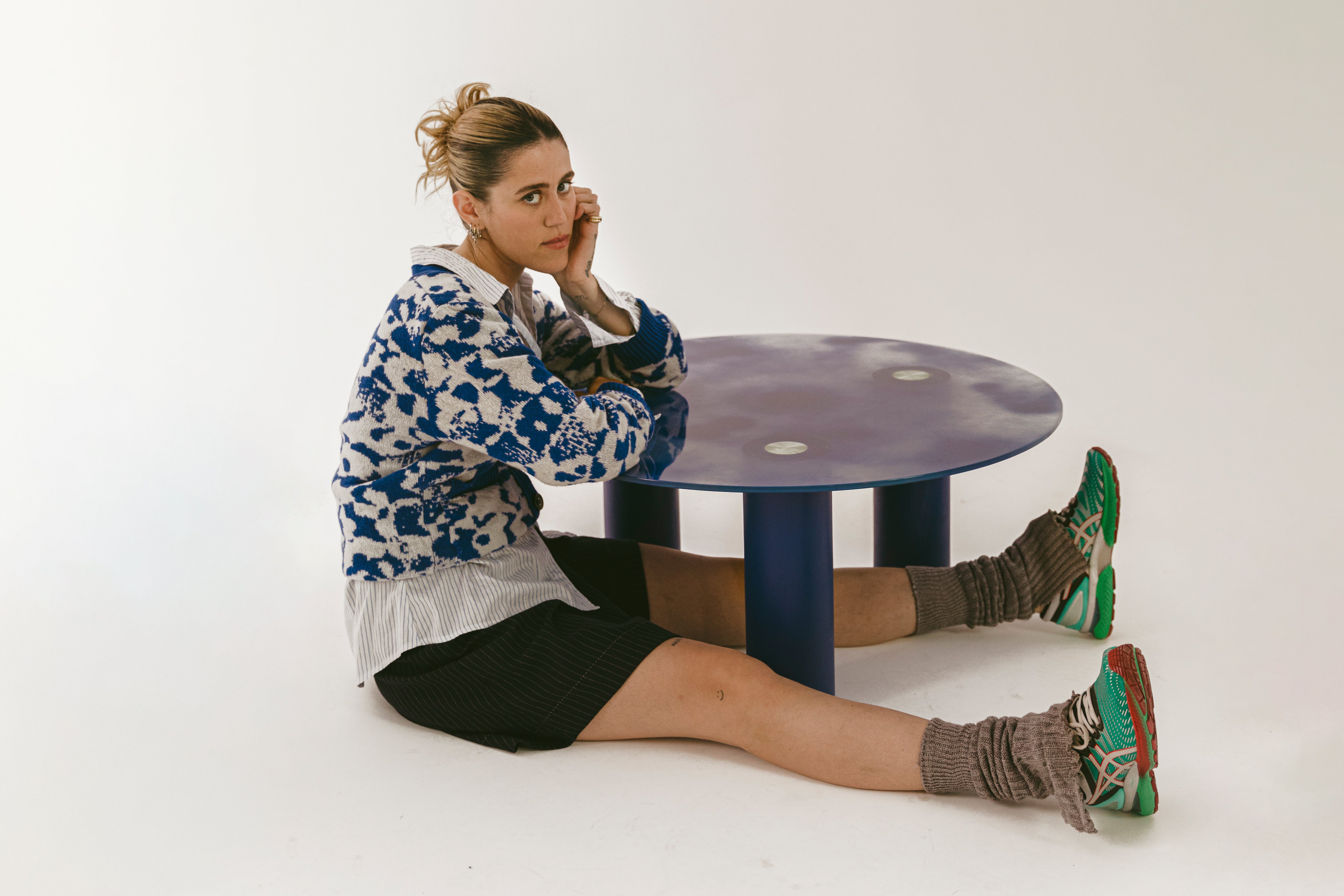 -The profits will be donated to a charity, which charity did you agree upon?

Clara : For the charity, in fact I had suggested giving a part of the donations to an animal charity. Because I have a 14 year old dog and it has always been a cause close to my heart. I talked to the girls about it. They immediately agreed because my dog's life was pretty difficult, she was my mom's dog at the beginning and we lost her a few months ago. I think it's great to be able to provide a life for the animals but in general I think it's always nice to give a second chance so for me it's important to support the animal cause.
Maoui : The profits will be donated to an animal charity. For me, it's the first thing that popped into my mind, it was quite logical. I'm a child of nature and of the countryside, a child of the region 77. I've always grown up around animals and I have a rabbit. For me it's all I want to advocate today.
Rubi : There were several charities involved. Clara was more interested in animal charities but I think that in general we agreed to focus our support on the Women's Foundation. Which fights for women's rights and it's one of the only ones I've seen that concretely tells you how to work for equality and even for rights, to respect women in their entirety.
-What is something you recommend to someone starting out doing upcycling ?

Clara : I think that the good exercise to begin with upcycling is to start with small items. Create small candle holders, small decor items and then when you really start with furniture I would say that trying to refurbish a chair or a sofa can be quite good, it takes time but I think it's a good exercise especially for the finishing touches and moreover that's what I did, my first upcycling of furniture, it was a sofa during the confinement. I also upcycled a small chair.
Maoui : The pieces that I will recommend for the people who begin in the upcycling it is going to be especially pieces in wood notably therefore small format, for example a frame, a mirror or a dresser, a shelf with which you can sand and cover then with a spray or a paint. It's things that are easily found in the market and that are easily achievable with little time and an ordinary object that you are getting tired of, you can immediately transform into something a little pop that comes to color your interior so I would start there.
Rubi : I would have said the mirror because I know that's how I started. The first upcycling that I did at home was for the mirror. There was this trend going on during lockdown to do the extensive moss on the mirror but now there are plenty of things you can do. I recently did an upcycling with several mirrors in patchwork. I think to start small and go higher and higher.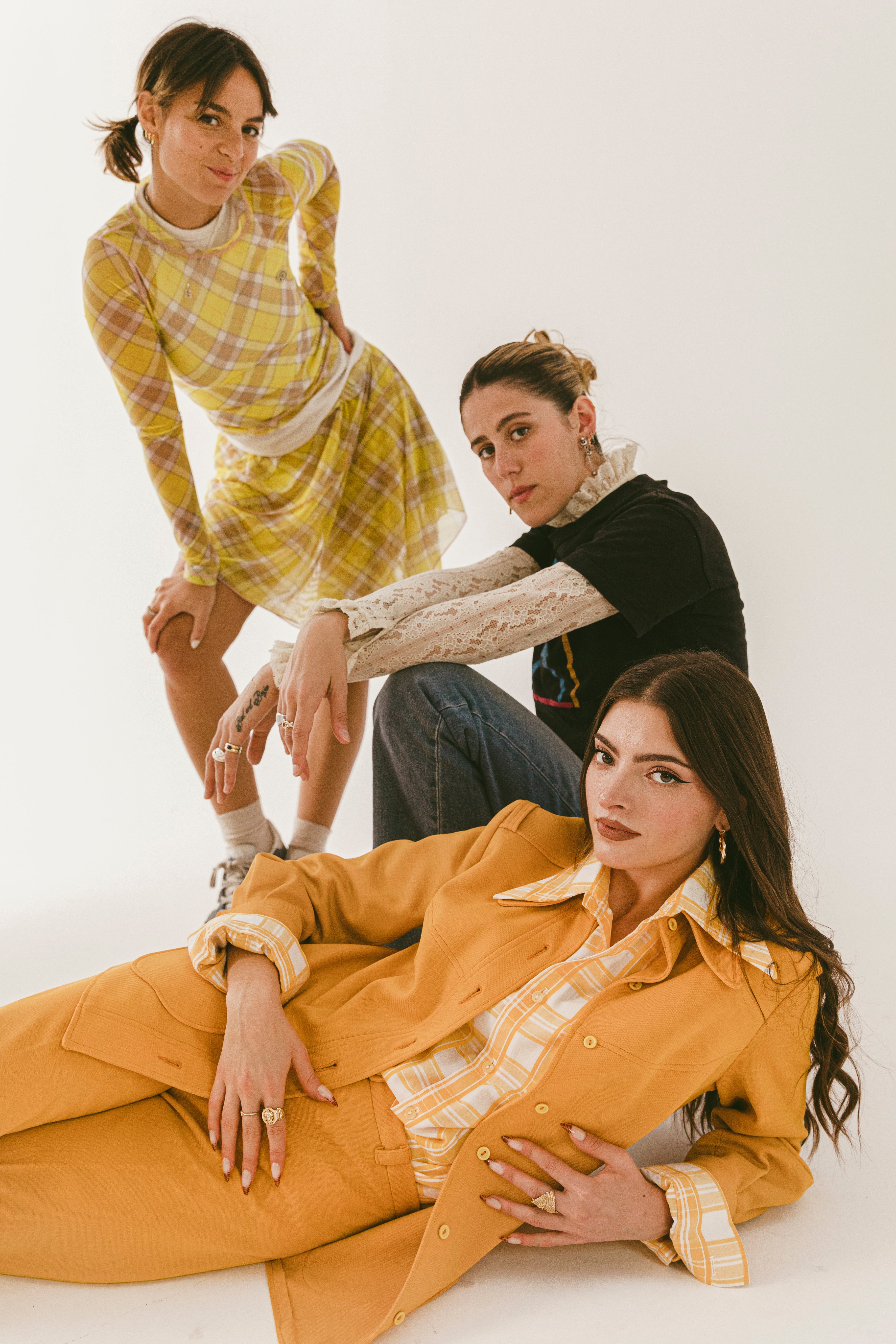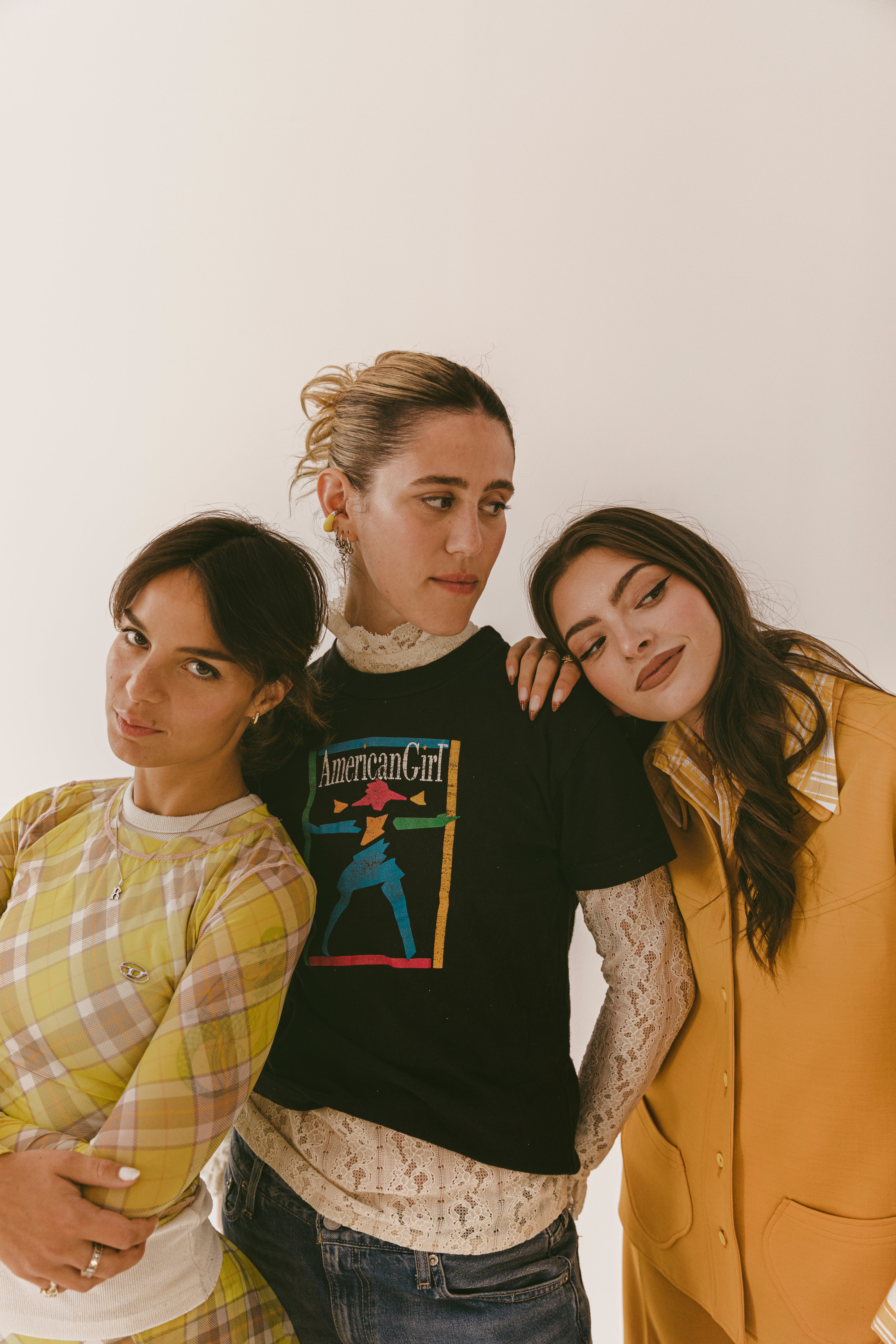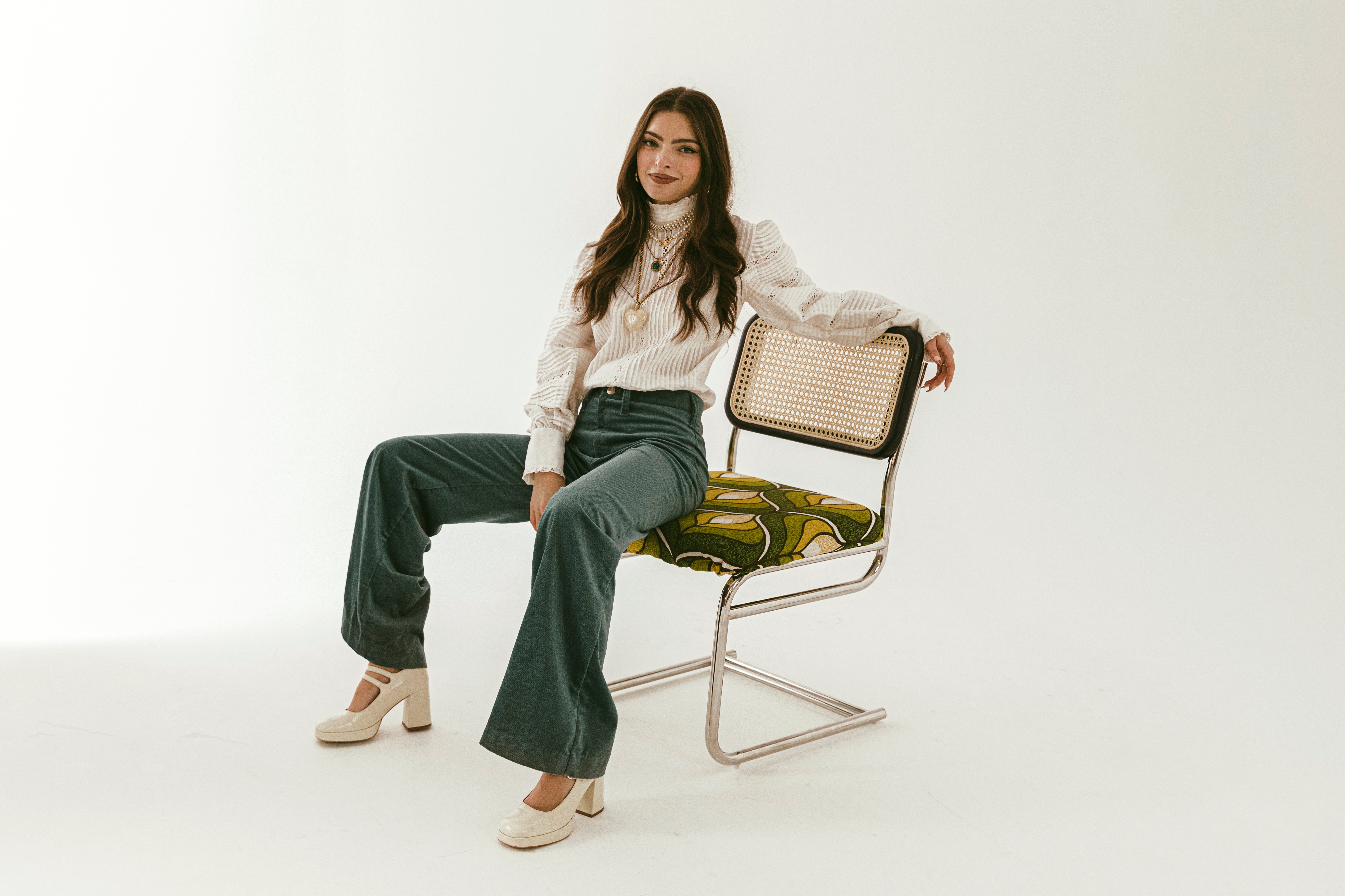 -What is one piece of design from your home that you can't live without ?
Clara : The piece I can't live without is my little lava lamp which is chrome, so for me it reminds me a little bit of design because everything chrome is very pretty, very design, it's very chic and I think mine is quite elegant, it's green. I love green, it's my favorite color. I did my upcycling based on this color.
Maoui : I love lighting because I think it dresses up a whole room, a bit like a pair of shoes for an outfit. I have a lamp in my living room which is a "artemide" lamp which is a kind of small white mushroom which is quite affordable and It was my design piece. Then recently for my birthday, I got a similar lamp from Jean Prouvé, who is a designer that I like a lot, which is in my room next to where I fall asleep, dreaming of more and more.
Rubi : I have a small sized apartment ( 27m2) which allows me to have fun but I must be smart and strategic about my furniture so I opted for a "Togo" sofa with two seats only. He is beige and very comfortable, plus he's super cute and it is really its own person. Besides that, I have a bed 2m by 2m but that's not design, that's pure pleasure.
-What is your obsession at the moment ?
Clara : My obsession at the moment is painting because I am currently moving to a new store and I'm just painting. I painted my furniture, I painted the walls, that's all I'm doing right now. It's an obsession and I'm trying to paint the best I can with the nicest finishes. It's not as easy as you think it is.
Maoui : My current obsession is either the EGO mirror from NV that was made in collaboration with jaimetoutcheztoi, which is just amazing. Also, I would love to invest in a "Togo" sofa for my home.

Rubi : I think it's Gustave Westman's plates, they're iconic and they come in different colors.
@rubipigeon